CONSTABLE — The white blanket draped over her workspace needs to go.
Just down the street from her house, Madison Ansari is often seen shoveling snow off an outdoor basketball court.
What else is she supposed to do? When practice gets cancelled, Ansari still puts in the time. She must.
"She's just the type of kid who's going to put a basketball in her hands and go out any time she can," former Franklin Academy basketball coach Shelley Skelly said.
These private practices have gone a long way. But like the powder masking the court's pavement, the COVID-19 pandemic also cast a shroud over Ansari's accomplishments.
These three women graced the Franklin Academy gym in their youth, piling on points. Solidifying themselves in North Country hoops history.
Ansari, in a non-COVID world, is on pace to be among those names stretched across the green and white banner hanging inside Franklin Academy.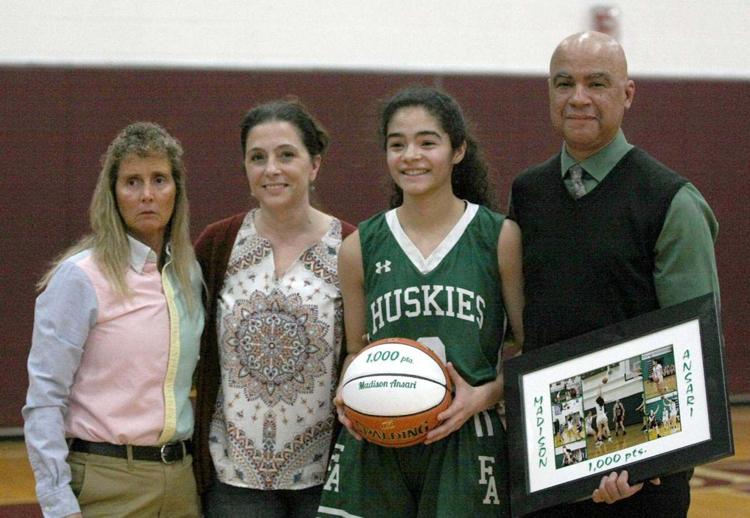 The 5-foot, 10-inch guard capped off a 418-point junior campaign, scored her 1,000th point and sits at 1,017 on her career. An abbreviated season would put Ansari in contention. She'd etch her name in school history. Section 10 history.
With high-risk sports like basketball on indefinite hold, and winter state championships out of the question, the odds of a senior season become slimmer every week.
"I hope it still happens," Ansari said.
The Lone Star State
Three-time MVP, All-state and First-Team All-Northern honors, as well as a Watertown Daily Times All-Star, Ansari has been shooting the lights out like those before her.
She made a name for herself in the NAC Central and committed to Texas A&M International to play Division II basketball.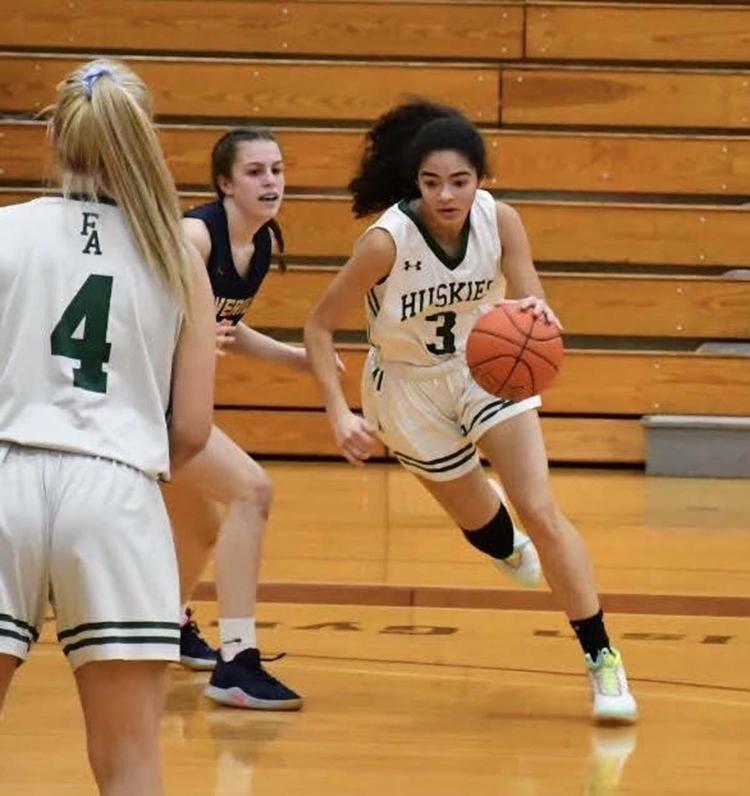 Ansari was sitting in her room when she got the call. Texas wasn't even on the radar. But then again, the radar was jammed with NCAA deadlock periods during the onset of the pandemic.
"I have no idea how they found me," Ansari said.
Before Texas, Ansari checked out Queens, Concordia and Ithaca. She wasn't able to visit those campuses. COVID shut down the entire state.
High school. College. New York became devoid of hoops. Ansari wasn't finding opportunities in her home state. It was time to expand her horizon.
Maybe it'd be worth checking out Texas? A whole different world 1,800 miles away. From the Canadian border to the Mexican, it could be an adventure while getting the chance to play again. To put a ball in her hands.
"You are not going that far away from home," she said.
Ansari kept Texas in the back of her mind until after the AAU season. A recruiter found her on another girl's Twitter page, and before long, Ansari went for a trip across the country.
"I went into there knowing nothing," Ansari said. "It was available and an opportunity, because I couldn't do anything in New York State, and I wasn't really getting anything out of New York State."
Even Ansari's mother was on board – on one condition.
"As long as you FaceTime me every night."
Texas A&M International left a lasting impression on Ansari. There's much doubt about her senior season. But solidarity for college. Questions in the present. Answers for the future.
"The campus is beautiful, truly beautiful. They're very funny, very energetic people," Ansari said. "I love the coach – everything about the school is fun."
All in good fun
Ansari's favorite basketball memories weren't created on the hardwood.
They were created from making TikToks in the locker room before games. Just Dance sessions, alternating team dinners at teammates' houses.
Attending boys basketball and hockey games, as well as other school events as a group. Ansari built relationships and memories that were profound outside of the gym.
Christmas parties. Dances.
"You name it, they were a group together," Skelly said.
That's the energy year round.
"Every day is a great day with my teammates on the court," Ansari added.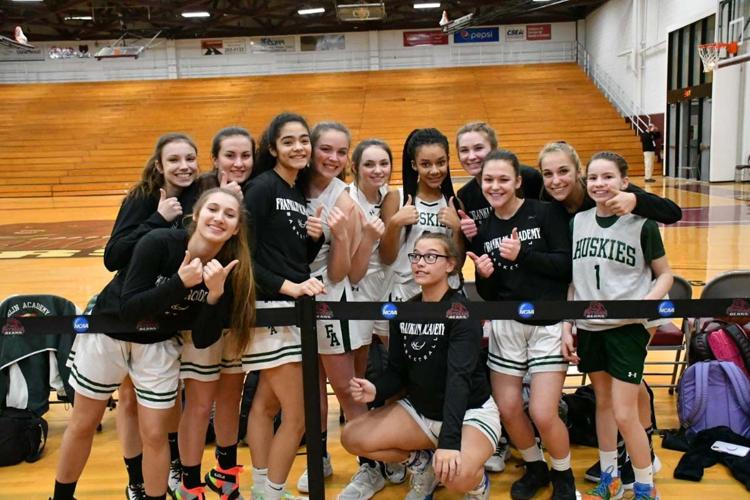 That fun nature. The thrill. It carries into Ansari's play. No matter the situation. Regardless of the competition.
"She gets double-teamed a lot, and she doesn't get frustrated by it," Skelly said.
Ansari works through it. Creates opportunities on her own. Her court vision, versatility and shooting ability outside the paint makes defenses pressure her. They try to contain Ansari. She makes them struggle. Soaking it all in.
"It's more entertaining to me," Ansari said about basketball. Her other sport, soccer, doesn't give her that same satisfaction. That sensation of being a problem to defenders.
"I definitely put basketball over soccer," Ansari said. "More opportunities to touch the ball. It kind of comes more naturally to me than soccer does. I like soccer, it's just not my no. 1."
Ansari's outside shooting speaks for itself. She can play down low. Any role on the floor.
"She can basically play wherever we need her to play at whatever situation arises," Skelly said.
That translates to the soccer field. Ansari can lock it down at the net. She can come out and command the offense when they need a push. An ocean wave. Flowing wherever she's needed.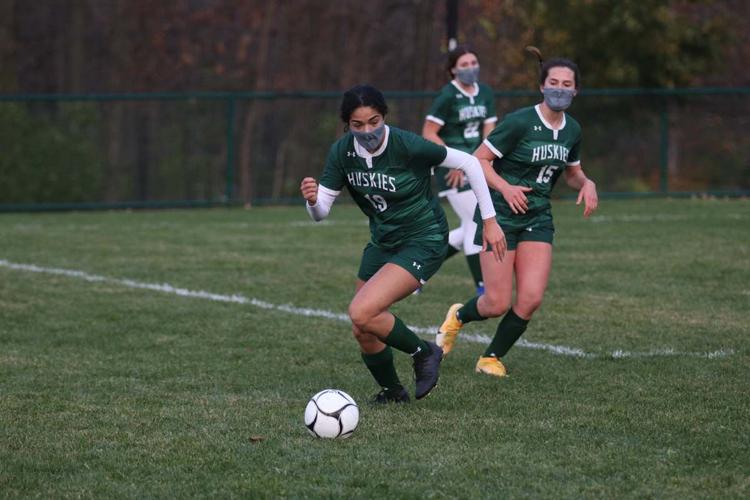 The two sports didn't just make Ansari's versatility. They didn't just create her physicality.
"It made my communication. I think I communicate pretty well on the field and on the court," Ansari said.
If she's down a few goals – or a good amount of baskets – it doesn't disrupt her flow. Her communication. Her fun.
She just seems to work her way through it," Skelly said.
Picking on someone her own size
Ansari played for the City Rocks, an AAU team based in Albany, before COVID cut her time short.
Her practices were four hours away. Tournaments double that. But like any young athlete trying to advance her game, Ansari made it work.
Though AAU is a whole different ball game from high school varsity. More traveling. Much more competition. That crucial stepping stone before D-II.
"It was a really fast paced game of basketball," Ansari said. "I'm glad I got to experience that before college basketball, where it could just hit me like a brick."
Before she became a three-year basketball starter at Franklin Academy, Ansari moved up from eighth grade for the playoffs. She had a strong showing in the Section 10 championship against Class A rival Massena, and Skelly talked with Ansari's parents about bumping her up before then.
"I wanted her up during the season, but I realized that was a big move as an eighth grader being asked to play on varsity with juniors and seniors," Skelly said.
It would've been a tall task. But not something Ansari hasn't done before. In third grade, she played on a traveling program composed of sixth graders.
"I've played up on the years, so it's gotten me used to playing against older and bigger people than me," Ansari said.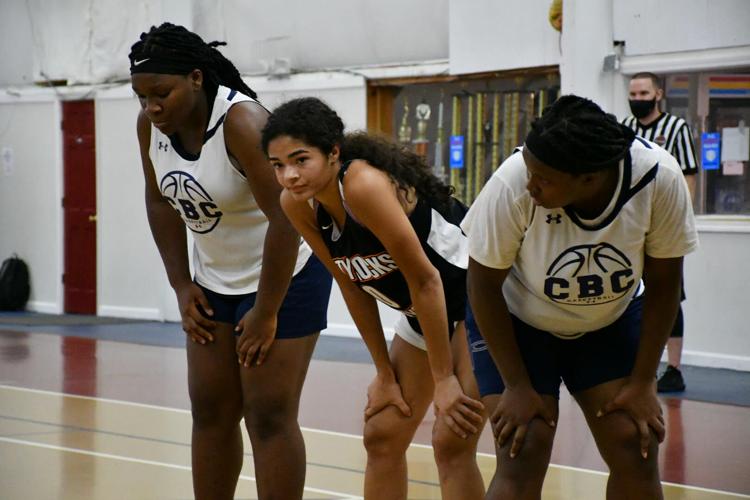 Those early experiences against bigger opponents on the court didn't just make Ansari a more versatile player. They were the first taste of tougher competition. The first bout of entertainment.
Playing up over the years conditioned Ansari physically. More intense play. Tougher, stronger opponents. She already had a solid foundation before ninth grade.
Ansari's ability to drive the lane, pull up and shoot, her dish off – all products of playing bigger kids.
"That's just her ability of ball handling at the same time as being able to see the court," Skelly said. "A lot of kids her age are so tunnel vision, and I think a lot of that goes to the fact that she's basically been playing basketball since she was in third grade."
She's been one step ahead since elementary school.
From one border to another
While she's left waiting for a senior season, Ansari knows she'll be on the court with the Dustdevils in due time.
"It's really sad that I might not be able to play in a Huskies jersey again," Ansari said. "But, look at the bright side, I'm still going on after high school to play in college. Some people don't have that opportunity."
A freshman playing D-II basketball against upperclassmen in the Lone Star Conference sounds like the perfect remedy for a taxing 2020.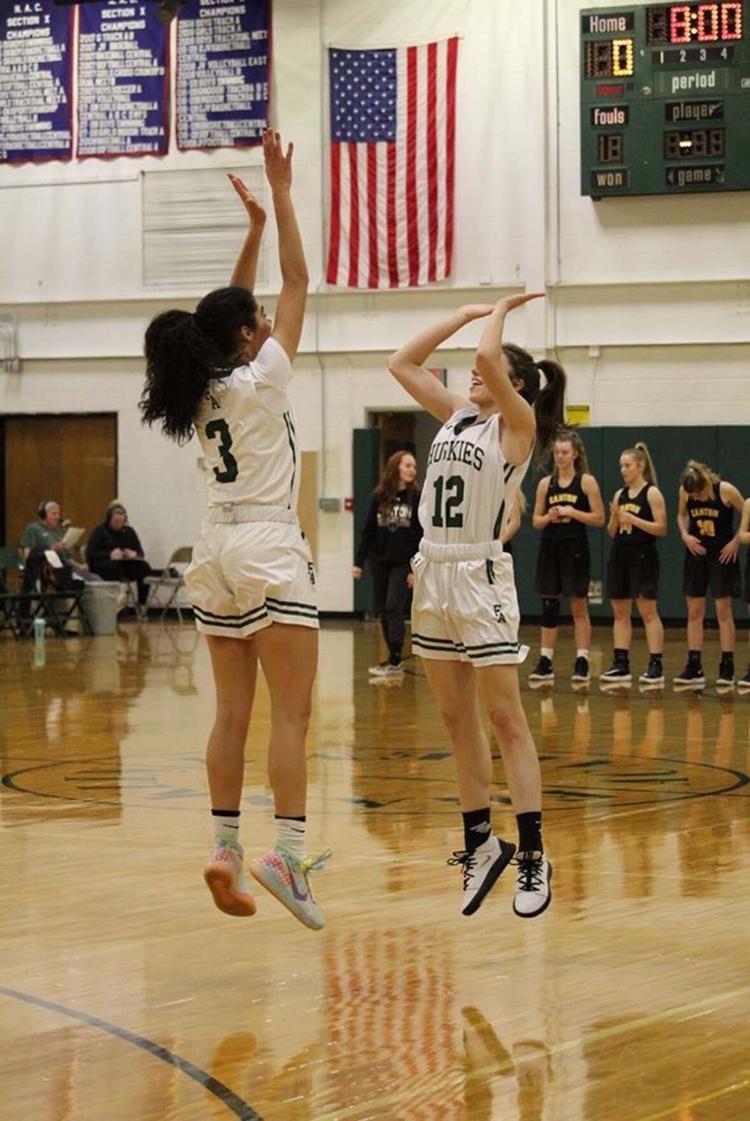 The fear of COVID-19. The anxiety of NCAA deadlock periods. The aggravation of no senior season. The uncertainty of the future.
"It's been scary. Exhausting. Kind of exciting? Not knowing what's going to happen, but not exciting at all at the same time," Ansari said.
This past year, Ansari faced a different level of adversity than she's used to. She still is now. But she's ready to meet new teammates. New connections. Friends to sing and dance with off the court. To give their all together on it.
"The support from my teammates was always a great thing that I hope I have in college," Ansari said. "If not, I'm really going to miss it."
If there's no basketball in Section 10 this season, at least Ansari will have more time to plan and pack. But maybe she'll leave the shovel behind.