MALONE — The ongoing COVID-19 pandemic has almost wrapped itself around a full calendar year, and once again, it's taken winter state championships away.
The New York State Public High School Athletic Association announced on Dec. 11 the cancellation of winter state championships, marking the second consecutive year in which winter sports will see no state finals.
"Mike (Martin) and I are saddened to see the winter championships cancelled again. Hopefully we will be able to have at least some sort of a season similar to soccer at this point," Chateaugay basketball coach Jason LaPlante said. "Just feel bad for these kids missing out on more things. Things they love and have worked hard for."
Along with the cancellation of winter state championships was Section 11's announcement to cancel the high-risk winter sports season entirely. While the NYSPHSAA awaits authorization from state officials, high-risk sports are on indefinite hold – not canceled – in Section 10.
"I think right now anything is possible," NYSPHSAA Executive Director Dr. Robert Zayas said during a media Zoom call following the decision. "Obviously if authorization is given in mid-January, it'll be a lot easier than if authorization is given in mid-March."
Section 10 also remains hopeful.
According to state health officials, the first doses of the Pfizer BioNTech COVID-19 vaccine that arrived Monday in New York should be dispersed across 90 different hospitals statewide by the end of the week.
A second COVID-19 vaccine manufactured by Moderna, Inc., is also pending approval by the FDA, and can be distributed immediately after.
"I think the thing that we would like to see – and I think everybody is holding out hope for – if we have a decent next few weeks, I think January 4 was the target date, but let's say a couple weeks after New Year's, if everything is calmed down a little bit, I wouldn't be stunned if we started then and got some time in until we have to wrap it up," Salmon River hockey coach Tim Cook said.
Cook, who also serves as the Section 10 hockey chairman, has faith that COVID cases will become more stable after the holidays and a regular winter sports season can be salvaged afterward.
Though in the meantime, Cook isn't shocked about the indefinite hold after having winter state finals cancelled at the start of the pandemic.
"This year, I think we're at a different viewpoint entirely in that Friday's announcement of the state championships being cancelled – that wasn't a surprise to anybody," he said. "And I think that was just due to the length of the season, and due to the fact that travel with everybody is really limited."
Soccer and cross country were relatively successful in the Fall I season, but winter sports are clearly at a disadvantage to the virus, being indoors. St. Regis Falls basketball coach Wilbur Bailey voiced his concerns to district superintendent Tim Seymour.
"There've been a lot of people upset now that they're not having basketball, but what are we supposed to do? I mean, you can't put 200 people in the gym," Bailey said.
Bailey, who also serves as the athletic director for St. Regis Falls, isn't as optimistic as Cook and LaPlante about the likelihood of winter sports this year.
"I hardly think there's going to be a basketball season," Bailey said.
While Bailey remains wary of packed gyms – much like state officials – student athletes in New York have expressed their frustration while schools in Massachusetts kick off basketball this week.
"I know Wilbur says that we could go without this and everything else, but I feel if we just do what we do at the soccer games – take temperatures, two people (visiting) per player – I think we'd be fine because if you think about it, if you come to St. Regis Falls, our boys team will maybe have seven kids. So we wouldn't have many fans to start with," St. Regis Falls junior Derek Prevost said.
Prevost agrees with cancelling state championships due to regional travel concerns, though he believes teams like St. Regis Falls – a school that fields small rosters – could have limited fan attendance while keeping the virus contained.
"With two sets of bleachers, I think we can space 14 people out (two each for seven players) on one side and their fans on the other side. I don't think it would be too bad or too hard. Limit the amount of players that can play on the team," Prevost said.
"Basketball is my favorite sport, so I want to be able to play. Last year I was hoping for a First-Team All-Northern, and they gave it to another kid because of a better record, and I kind of wanted to redeem myself this year."
Prevost isn't the only upperclassman that feels he has something to prove this basketball season. Seniors are grappling with the idea of missing their final winter campaigns.
"My last three years have been underwhelming to me. I just expected more going into senior year, it was going to be a big year for me I thought," Salmon River senior PJ Ghostlaw said. "But we don't know what's going to happen."
Like Prevost, Ghostlaw played soccer during Fall I, and has reps wearing a mask during games and practices outdoors. He feels that although it would be a challenge to play basketball with face coverings on, he, like many other student-athletes, is willing to do whatever it takes to step on the hardwood.
"I adjusted quickly with soccer, and I wouldn't mind the same thing going into basketball," Ghostlaw said. "It's a tough thing to play with, but as long as we're playing. I want to be out there."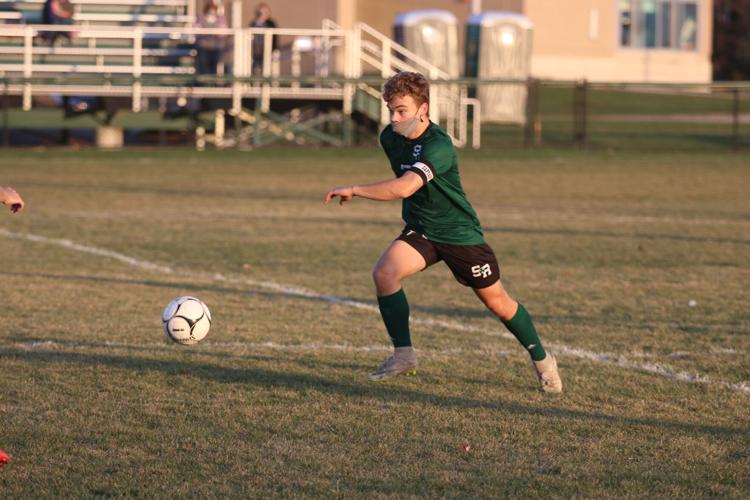 Now that the NBA preseason is in full swing – as well as college basketball – high school players in the North Country are left in a void. The reason for this, as Zayas noted during last week's Zoom meeting, was due to high schools not having the same resources for staffing and testing as the collegiate and professional levels.
"I know there are a lot of upset coaches and parents, players and everything, especially when you see basketball being played on the professional level and basketball being played in college," Bailey said. "I'm sorry, I think the state did it right."
Although the decisions made by the NYSPHSAA last week were largely not a surprise, vaccines are coming, and whether or not winter sports are played in the North Country this season, there is room for optimism that high school sports will return in the future.
"I breathe and live sports, my whole life. But as an athletic director and as I'm older now, you have to look at the whole picture," Bailey said. "I hope we get back to normal, because I'd love to see the gym packed again."