FORT COVINGTON — Tahnaokata Elijah didn't want to play lacrosse.
He refused to — unless the bribe was right.
Some ice cream here, or a video game there. Elijah always struck a deal with his parents, who wanted him to play. They knew he had to. It's more than a game for members of the Mohawk Tribe in Akwesasne, and Elijah hadn't learned the lesson yet.
At eight years old, Elijah played for the Akwesasne Storm minor box league team in Ontario. It took a while to get with the program.
"I wasn't really passionate about it until I was 12," Elijah said. "I'd pick up the stick, go to practice, my parents would reward me for that."
Lacrosse was something Elijah was pressured into, something he thought would always buzz around his life. That is, until he was cut from the Akwesasne Attack field team.
It was a jolt. For once, lacrosse turned away from Elijah.
"I got real, I guess you could say, emotional and mad about it," Elijah said. "I threw a fit and I told myself that I'm gonna practice every day and get better, get faster to prove them wrong, that I should've made the team."
That was when the grind started. The mission began. Every day, from after school until the sun went down — even longer during the summer — Elijah hit the gym. He ran. He hit a growth spurt and became taller, faster, stronger than those around him.
The 5-foot-9 midfielder now wanted to play for himself, to show everyone he had what it took. He didn't need lacrosse, lacrosse needed him. At least, that's how it began.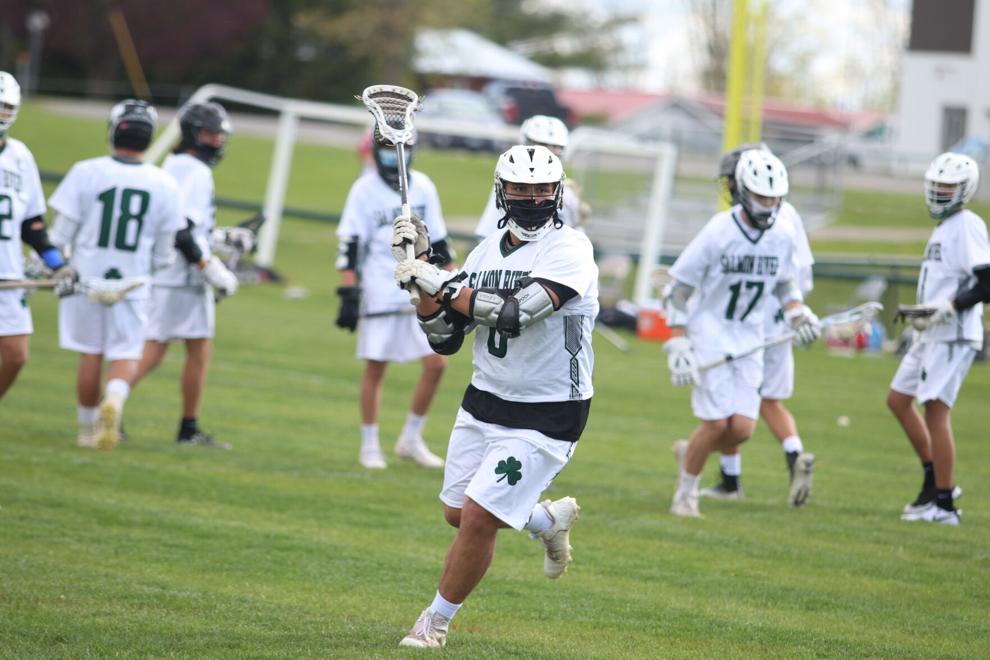 It was Elijah's competitiveness that lay dormant, finally bursting through the surface. He knew what it was to not be the best, to not be a great ball handler or a starting middie.
"I was one of those victims of the coach having favorites," Elijah said. "I was one of those kids who barely got any playing time. In my mind, that made me mad."
Elijah was obsessed with getting better. Obsessed with proving he should be out there. Shooting around outside was the routine.
"I didn't have fun doing anything else," Elijah said.
Then he got older. With age came the knowledge of lacrosse's origins, the roots that burrow deep in his own culture. Elijah knew how important lacrosse is to residents of Akwesasne. It made sense why his parents insisted he played. Why he was naturally competitive.
Named the Section 10 boys lacrosse MVP, Elijah scored 44 goals and nine assists throughout his senior campaign at Salmon River. He is also the Watertown Daily Times NAC All-Northern MVP.
Elijah invested himself in a different way. It was no longer about him.
"I'm not just going to play for myself," Elijah said. "I'm going to play for everybody else who needs it."
A reason to play
Elijah's grandfather, Keto, was always watching. Always wanting to see his grandson. Never taking his eyes off him.
Keto lived on the Onondaga Reservation, just south of Syracuse. He'd drive up to Akwesasne in a night and visit. He always had to make sure Elijah was OK. When they were together, they were glued to the hip.
"He was constantly bringing me everywhere," Elijah said.
Keto worried about his first by-blood grandson. He knew how unforgiving the world can be. When he thought the family's green 1998 Chevy Blazer wasn't safe enough for a 3-year-old Elijah, he brought it to a shop himself and handed Elijah's father the bill.
Elijah lost Keto in just his fifth year of life. A speck of his timeline, but a full one at that.
"I remember him a lot. I remember how close we were," Elijah said. "I still feel like he's watching over me today. I know he's watching me grow and learn. I'm going to go out there and play for him, because I know he's watching me."
In Native American culture, it's taught that lacrosse players take the field for others. They play for someone.
Like someone is watching.
"Whether they're living or not, or they can't play — the responsibility you have as a lacrosse player is to go out there and have as much fun as you can," Salmon River boys lacrosse coach Jim Barnes said. "You play the game with honor, you play to have fun."
Barnes is a Salmon River graduate of 1996. He played five years of varsity lax, having played a season in eighth grade. He too learned what the game means for the Tribe. How important it is for his people. His community, his family.
Lacrosse was created to entertain. It's a means of escape. For many elders of the Tribe, lacrosse is one of the few things they have to look forward to when they leave the house. To see their friends at games, their grandchildren running around on the field.
"You're out there playing a game that others can't play," Barnes said. "When you step on the field, you're playing for the people in the crowd, playing for someone who's not in the crowd."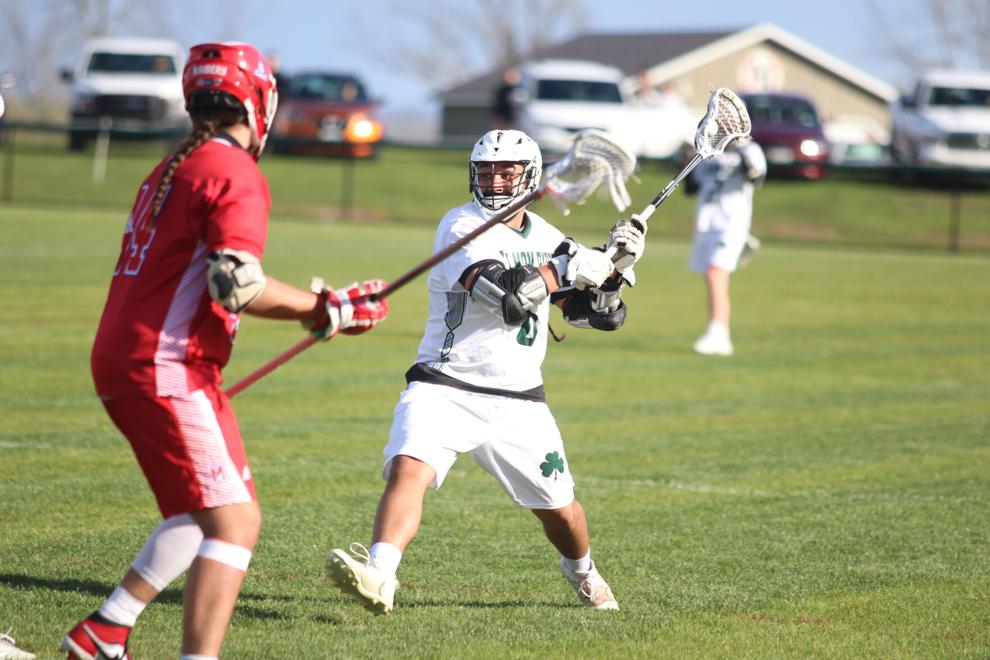 Games get competitive. They can get chippy. That's the nature of sports. Though the atmosphere doesn't falter.
The community is together. With that unity, with that entertainment, is a spiritual cleanse.
"If someone's feeling down at home, and you say, 'Let's go watch a lacrosse game,' everyone's excited. Everyone's having fun at a lacrosse game," Elijah said. "That's the medicine. It uplifts your spirit. It uplifts your spirit and your mind."
The medicine
Two pieces of plywood and a couple of wooden boards screwed together stand roughly 10 feet tall and five feet wide. Elijah often whips a ball at it, working on precision passing, envisioning the lumber as a teammate.
The ball hits the board. It bounces back. Day turns to night. Days become weeks. It was the best way to pass time after COVID-19 struck.
"That's basically what I did to keep me sane throughout the summer when the pandemic first hit," Elijah said.
Elijah still saw some friends and cousins, still played small bouts when he could. Something to keep him connected to the game.
"It's probably what most kids did on the Res," Elijah said. "Little pickup lacrosse here or there."
It wasn't just to keep the skills sharp. Though, it couldn't hurt. After all, Elijah had to be ready to take faceoffs. He had to be prepared for man-up units.
Any role that came his way ahead of the season and during it, Elijah would be ready. A wave on the field, the middie would make sure to flow where he needed to.
"He's one of those kids you can put anywhere," Barnes said. "He could probably grab a long stick and play long stick if I asked him to."
Elijah can pace the attack well at the net, and move through defenders when he needs to. Ground balls, creating transition offense — the speed, agility and precision has come over time through Evolve Lacrosse youth teams and attending showcases in Maryland and Delaware.
"He definitely has the skills for an all-around midfielder, and he's not afraid to run back on plays and play some D," Barnes said. "I know he's on our man-down too, so he's all over the field."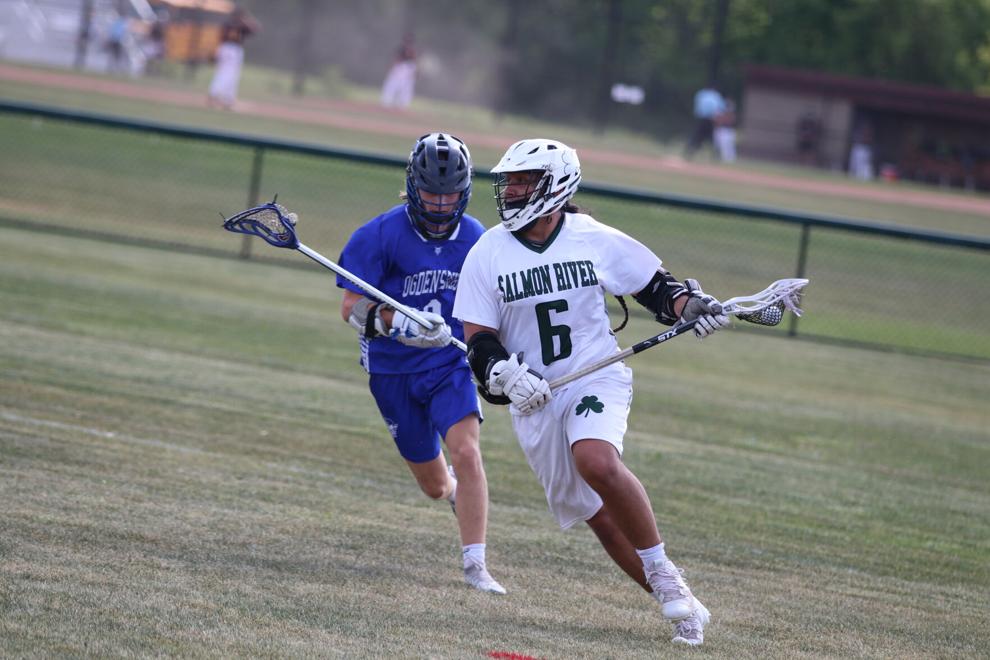 Maintaining skills with a year taken from the pandemic is just one side of the balance scale. The other is maintaining a positive mindset — something Barnes stresses to his players often.
If one player is negative, it'll affect another. Before long, negativity can plague the team.
"Each player is like a link of a chain," Elijah said. "Once one link of that chain starts being negative, starts being down, calling players out for mistakes and whatnot, then the whole chain comes down with that one link."
It can spread like a disease, affecting the bleachers. Friends, parents, elders. Everyone watching. Everyone they play for.
Negativity wouldn't make for good medicine.
"To me, in lacrosse, you have to act like those are your brothers out there playing," Elijah said. "You have to go out there, play with a good mind and have fun. When you're having fun, the people watching you are having fun."
Siena
Elijah still had pregame jitters during the season opener at Canton.
Coming back from a pandemic, not knowing if he'd have a season — not knowing if he'd play for others, play for those who needed it.
"Even though we lost, I thought it was a good learning curve for the team, and I thought it was a good wakeup call for some of us," Elijah said. "I didn't play my best that game, but it woke me up to realize, 'Okay, I need to work on these things for the rest of the season.'"
Elijah and the Shamrocks went on to win out the rest of the regular season and reach the Section 10 title game, where they fell 7-5 to the Golden Bears in their third meeting of the year.
He brought it all season for those around him. For his brothers, for his family. Now Elijah is ready to bring it to Siena College, where he'll play Division I lax with the Saints.
When he meets his new crew in Loudonville, Elijah will have more people to play for.
"That's what lacrosse is supposed to be about," Elijah said. "You're supposed to know who you're playing for and what you're bringing to them."
Elijah knows why he plays.